Cold Jet Dry Ice
Cold Jet is recognized as the global leader in equipment quality, reliability, service, system design and integration. Cold Jet equipment is the culmination of over 25 years of experience and is professionally supported by an industry leading service organization.
Cold Jet's line of pelletizers are simple to operate, offering one-button start-up and shut down with no nurturing or adjusting, and are the only systems in the world that produce dry ice via a true extrusion method, which combines high pressures and patented die design where the holes are individually machined and contoured extrusion nozzles. Other systems use compaction, simply pushing CO2 snow through straight-bored holes, and attain less than 90% of the maximum dry ice density.
The result of Cold Jet's true extrusion method is pure, translucent, high-density dry ice with:
No gas or snow inclusions
Better transportability (i.e. less fines)
Longer shelf-life; up to a 20% reduction in day-to-day sublimation waste
Superior dry ice blast cleaning performance
Cold Jet is the preferred equipment provider to major industrial gas companies in the US, Europe and Asia, as well as heavy dry ice end-users for non-stop, 24 hours a day, 7 days a week operation in the most demanding environments.
Cold Jet's world-class leading clients include:
Air Products
Nippon
Linde
Airgas
Praxair
Air Liquide
Showa Tansan
---
Dry Ice Production Equipment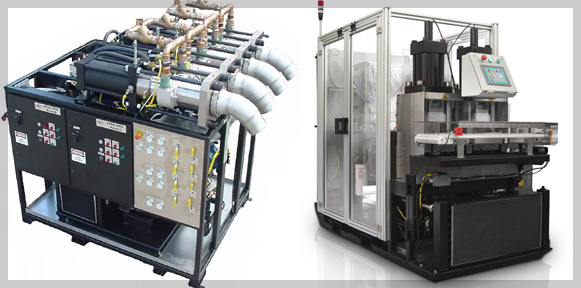 Cold Jet's dry ice pelletizers and reformers have been engineered by the industry's leading experts to offer the greatest level of reliability available and the highest density dry ice obtainable. With an expansive made-to-order and customizable product line, Cold Jet continues to set the standard for worldwide dry ice production, reliability, customer support and product innovation.
Click here to see the current Cold Jet Dry Ice Manufacturing Product Catalog

Or, for a more comprehensive look at Cold Jet Dry Ice Production equipment offerings, visit our main website at www.coldjet.com.